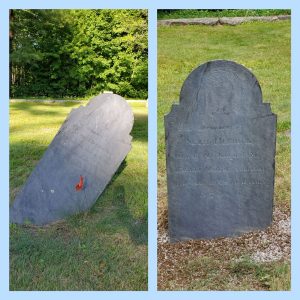 The Meeting House Hill Cemetery applied for, and was awarded, a grant from the Vermont Old Cemetery Association. Using the funds from this grant and contributions from our Annual Drive, we were able to restore and repair a number of historic old stones in 2019.
On June 13th and 14th, Will and Lisa Cornell who are professional monument restorers and preservationists came to the Meeting House Hill Cemetery to work on some of our oldest stones. They straightened and re-set a leaning old slate monument. They also applied a special brown formula (as seen in photos) to some larger stones to remove moss and growth which brightened them back up tremendously. Additionally, Will and Lisa repaired cracks and broken components of several stones in the oldest part of the cemetery.
Lots of great work is happening up at Meeting House Hill Cemetery and we'd like to thank the Vermont Old Cemetery Association and our donors for enabling us to restore these historical monuments in our beautiful cemetery.
Here are a few examples of the work we did: